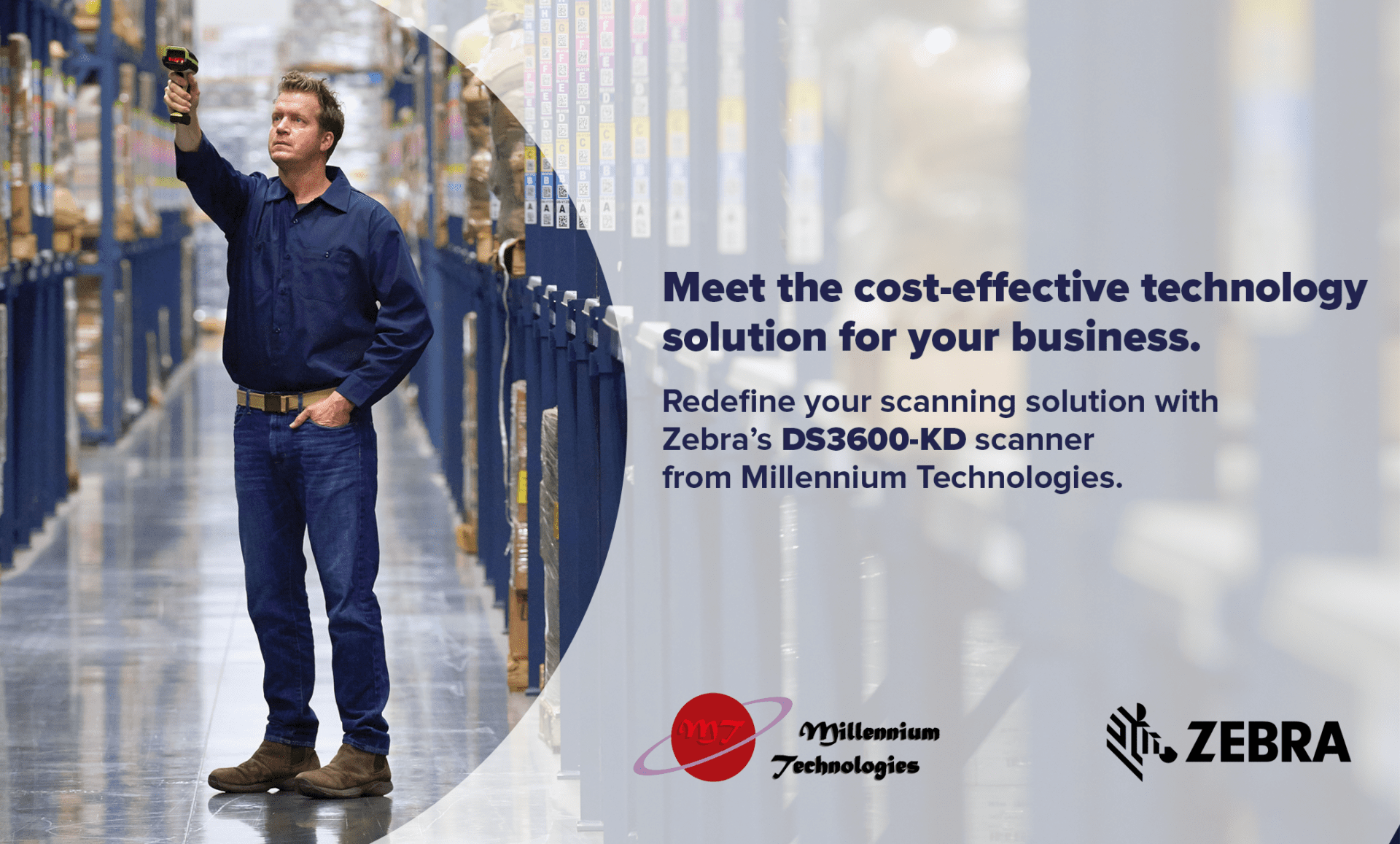 The productivity of your warehouse and manufacturing workers depends on the quality of your
scanners. The modern warehouse works with many different types of barcodes – varying sizes,
surface types, and durability levels – ultimately presenting different challenges. As a result, more
warehouses are turning to new, versatile technology that captures barcodes within the first
trigger pull while eliminating additional reporting steps for a smoother and faster workflow. In
fact, 73% of companies are currently modernizing their warehouses by implementing or
refreshing mobile computers, tablets and barcode scanners. Your business could end up
lagging behind the competition, dropping more orders, and ultimately seeing a severe decline in
customer satisfaction without proper barcode scanners.
What Does an Enterprise-Ready Scanner Bring to Today's Operations?
To equip businesses with competitive technologies, Millennium works alongside Zebra to equip
your business with reliable scanning solutions. Here are some ways modern barcode scanning
keeps your business productive and up-to-date.
Higher efficiency with the ability to decipher multiple codes at once can accelerate
throughput. As workers are able to quickly assemble more orders, they lower risks of
missed deliveries while optimizing the customer's overall shopping experience.
Nonstop scanning powered by enhanced ergonomics to work under tough conditions.
Investing in reliable technology leads to higher productivity in the workplace since
workers spend less time fixing damaged devices and more time on impactful tasks.
Helps save resources by reducing the amount of time spent scanning and the cost that
comes from having to fix shipment errors caused by other warehousing methods. Other
methods are prone to more errors and reduce accuracy in your business, causing
confusion and lower visibility which will eventually lead to unhappy customers.
Easy management by remotely configuring your scanners and upgrading with better
software capabilities. The 123Scan and Scanner Management Service features allow
you to monitor battery statistics and format data properly. This simplifies device
management so you can avoid the hassle of having to constantly maintain your devices.
Streamline high performance with Zebra's Newest DS3600-KD Scanner
Finding a solution that provides all of these needs consistently and satisfactory is also a
challenge. However, Zebra's newest DS3600-KD ultra-rugged scanner has sought to break
several standards by surpassing expectations. Designed with flexibility and maximized uptime in
mind, the ultra-rugged scanner also delivers….
Extraordinary scanning performance with an advanced imager that reads 1D and 2D
barcodes faster, as far as 7 ft. away. This drives worker productivity and customer
satisfaction to a new level with the ability to capture up to 20 barcodes at once.
Streamline tasks with keypad and display – Five pre-built applications are ready to
use right out of the box, no other device in this class offers the simplicity of pre-built
applications. The ergonomic 16-key keypad is thoughtfully designed for one-handed
operation
Indestructible durability in ultra-challenging environments with the ability to survive 10
ft. drops to concrete. The DS3600-KD can operate consistently even after 7,500
tumbles, and is dustproof, spray proof, and waterproof. This streamlines worker
productivity with reliable technology that operates efficiently even in the toughest
conditions.
Reduce management time and costs to a new low with tools that allow you to create
and distribute configuration files or barcodes. This simplifies staging so your devices
work right out of the box and eliminates time spent looking through manuals.
Superior cordless technology that equips your business with Bluetooth 4.0 for
lightning fast data capture. Streamline convenience so your workers can move freely.
Choose Millennium Technologies and Zebra Technologies for a wide portfolio of high-quality,
high value scanners that excel at every purpose and price point. Contact us today to find the
right scanner for your business.